Series points will be awarded on the following basis: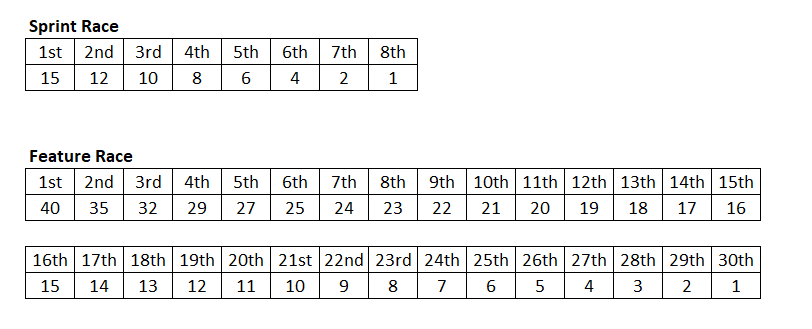 Bonus points will also be awarded for the following:
Fastest Qualifier – 1 point
Fastest Lap – 1 point (available in each race, not dependent on finishing position)
Drop Weeks
To allow for competitors some "work/life balance" – the series will include drop weeks at a rate of 1 drop week per ever 4 race weeks.
Eg: a 12 week series will allow for 3 drop weeks, a driver's best 9 weekly scores will count to their overall score.
Team scoring
Drivers can participate in teams of up to 3 drivers, however only the top 2 results per team will count each week towards the overall team's championship.
Substitutions of drivers in and out of teams mid-season will not be possible (hence allowing up to 3 per team in case you have part time requirements)
Points will be awarded as per the charts above